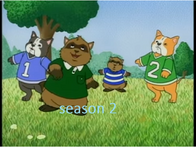 "The Treefort and the Sandcastle" is episode 23. It first aired on November 10, 2000.
Synopsis
After the boys decide to make their new Treefort a boys only hangout, the girls retaliate by taking over the Sandcastle. At first it seems great but eventually everyone gets bored and start to miss their other friends.
Plot
One day during recesse, everyone is out playing together. The Franks play tag, Nora and Fritz are in the sandbox, Yoko is playing cards with Charles, Claud and Grace are playing jacks, and Timothy plays soccer with Doris. Eventually an actual soccer game ensues with the boys and Doris, but after the ball lands in a large tree, they have to quit to retrieve it. Doris helps Timothy by lifting him up, but as he gets the ball he admires thew view before bringing up an idea to make a treefort there.
Right away everyone agrees, since it sounds like fun. But when the boys decide to exclude the girls, Timothy and Doris are surprised by this and question why. While Doris goes to tell the other girls about this, Timothy slowly eases into the idea as Doris goes to speak to Mrs. Jenkins. She doesn't agree with what is going on, since both boy and girl should be able to play together. But she decides to let them work this out on their own as the girls decide to find their own hangout spot. They choose the sandbox and decide to make it a Sandcastle group.
As Claude finishes his plans for the design, Timothy and Charles have been gathering wood. Fritz shows them how they can lift the wood into the tree and quickly they are able to get it built. While they have fun, Timothy thinks up a special chant for them to say. While the girls hear this, they wind up creating their own as they build a big, special sandcastle.
At first both sides are happy on their own. However, having become divided outside, they show this at class, when they all join together at two seperate tables. The girls claim not to care when the boys discuss their fort, because they are all having fun in their own group; but the animosity continues to grow and soon, the two sides just start ignoring each other.
When Recess approaches, both sides are growing bored. By now they both have finished their plans and no longer need to keep working. So now, they don't really know what else to do, since some of the things they would like to do can't be done in their respective clubs.
School comes to an end and as Doris steps off of the bus, the girls say goodbye to her. She sees her brothers and asks to join their soccer game, causing Timothy to rethink this gender seperation as he recalls the fun they had earlier on.
The next day, things seem to have worsened and both sides are somewhat depressed with nothing to do. Recess ends and Timothy stops Doris to speak to her, but as it turns out she actually has the same idea that he did and they discuss it before heading inside. They plan to put their ideas into play during their next recess.
Later on, the girls notice that Doris is missing, while the boys do the same with Timothy. To their surprise they find them playing together and they slowly gather around to watch. Claude questions Timothy and they show everyone their trick before everyone slowly starts to reconcile and they run off to play together. With Nora and Fritz checking out his ladder he built for the fort, Claude and Grace run off to play jacks, Charles and Yoko play cards, and so on.
As everybody has fun playing, Mrs. Jenkins watches them with a silent smile.
Quotes
Trivia
For unknown reasons, Lily does not appear in this episode. This may have been an oversight or intentional, due to everyone being paired up at the start and end of the episode.
On one of the DVD, this episode is known as Tree Fort Club.
Errors
As the girls admire their finished sandcastle and laugh, Grace's hands lack their darker coloring.
Gallery