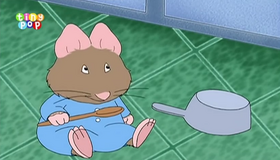 Jack is Nora and Kate's baby brother. He makes occasional appearances in the series.
Bio
Physical Appearance
Jack has pale brown fur like Nora with pink paws, nose, tail, and feet. His inner-ear is slightly darker. He has two whiskers on each cheek.
Personality
Like most other toddlers or babies, Jack is innocent and gentle. He often tends to cause trouble or make a mess without meaning to, and doesn't really know any better. He loves Nora and his family and enjoys spending time with them. Like Nora he enjoys making a lot of noise.
Appearance
Jack wears a blue shirt with two white buttons on it.
Trivia
Gallery